Booties that let them explore.
Our "Oh so soft" and flexible Babooties baby shoes let your child be the adventurer without any discomfort or restrictions on those all important first steps.
Babooties combine a soft, stretch fit, cotton spandex sock with a flexible rubber outer sole keeping feet warm, protected and ready to roam!
Satisfaction Guaranteed ⭐⭐⭐⭐⭐
✅ Fast & Free UK Postage 🇬🇧 (From Durham, England)
✅ Hassle Free Returns ↩️
✅ Machine Washable 💦
Babooties... the original baby booties.
Buy 2 get 10% off your second pair
Mummy Designed
Super Flex Design - Allows completely unrestricted movement for baby be they toddling, walking or crawling.
Grippy Soles - Giving that all important safe grip while your baby masters their first steps. Perfect for playing outdoors and if they get mucky just pop them in the wash.
Soft Cotton Uppers - A snug and warm fit without irritating newborn skin and allowing your baby's feet to breathe.
Available in 20 Designs, sizes 0-36 months.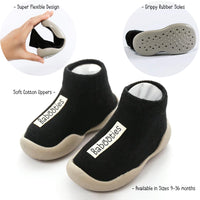 My Grandson looks just adorable in his Babooties and its simple to chuck them in the washing machine if he's played outside

Marie - Jacks Grandma
These great little shoes mean lost or loose socks are no more.

Did I mention how cute my twins look in matching booties? XXX 

Jennifer Mcandrew
Really simple to order, fast postage and absolutely in love with the product. I used the live chat customer service to help with sizing and they were very helpful too. Thanks 

Alison Finch